We're into our fourth year – just one more until we start attending school! The organisation for the 2019 festival is already in full swing, and as the festival grows, so too has our festival committee grown to reflect areas of importance to the festival. Without further ado, we'd love to introduce the amazing group of people that are bringing NZ's international games festival to you in 2019.
2019 Committee Members
Dr. Hazel Bradshaw is an academic and game designer specialising in engaging design approaches for games, interactives and emerging technologies. She is currently based in Wellington, applying her game design skills within LabPlus, an R&D team undertaking innovative service design at the heart of government. Hazel's mission is to combine gameplay and technology to create more meaning and playfulness in our everyday interactions. Hazel holds a PhD in Human Interface Technology specialising in game design practise and is the founder of Driedfrog Ltd, a gameplay consultancy and design studio. Hazel draws upon a background in visual arts and design innovation, and has held international academic positions lecturing in game design, creative technology and game art.


Claire is a game developer from Wellington, New Zealand and is the Producer for Loveshack Entertainment, with her most recent release being the FRAMED Collection. Previously a Play by Play speaker, she has also delivered talks at GDC, NZGDC and PAX. She has been recognised for her work in the industry by being listed on the Women in Games list, and the 30 Under 30 List for consecutive years, most recently being nominated for the Trailblazer Award. Claire is no stranger to event organization, having curated speakers for NZGDC, run PAX booths, organized networking events and volunteered at GCAP for the past 3 years. She also has the world's largest collection of dog gifs.
Alex is a senior content writer in a small team that produces digital marketing editorial for a portfolio of over 50 clients, spanning multiple industries. In his down time, Alex fosters his backlog of half-played games while designing new cocktail concepts based on his favourite characters for his blog, Heroes' Feast. He also balances three ongoing Dungeons and Dragons campaigns (playing two and running one) with his work on The Intergalactic Express podcast, which explores narrative themes and tools across a range of media. His favourite games include Overwatch, the Dragon Age series, Final Fantasy IX and the Ace Attorney series.
Joshua Boggs is a multi award-winning designer, and co-founder / director of Loveshack (creator of FRAMED & FRAMED 2). Josh cut his teeth in the industry years ago at EA, and has also worked with Apple where he has assisted them in bringing game demos to life on stage at WWDC. Josh has returned to home waters, and is currently planning the next big thing.
Jess is a long-time cosplayer, longer-time gamer. Her day job sees her leading a team of graphic designers and producing artwork for one of the most valuable brands in New Zealand. Some of her proudest gaming achievements include showing up two hours late to a date with her now-husband because she was too engrossed in Virtue's Last Reward, and winning a PS4 on launch by professing her undying love for Final Fantasy IX.  In her spare time, Jess plays mum to two cats and manages the Cosplay New Zealand Facebook group with her brother Alex.
Cassandra is the Assistant Producer at Wellington studio Weta Gameshop, a partnership between Weta Workshop and Magic Leap. Originally hired as studio coordinator during her second year of studying Game Design and Production, Cassandra moved into production after ten months with Weta Gameshop. In addition to Production, her background is in Quality Assurance, Event Management, Retail Management and Community Management. An admin for Facebook group 'Women + Non-Binary People Studying Games' and recognised as one of 2018's featured Women In Games by MCV Pacific, Cassandra is passionate about making the industry a more diverse and inclusive place.
Most people know Patty as that tall person with good shoes – however, Patty is more than good shoes and tallness; they also house a passion for design, spending the last few years floating around the scene as a designer working on too many different projects, and helping companies like Storybox and Aurora44  to create engaging experiences with all the enthusiasm of a small child. Now she's bringing that level of enthusiasm to the festival and its surrounding events!
Calliope is a final year (Creative Tech) Art and Design student finishing her studies at Media Design School, coming from a background in professional public relations and performance art. Outside of her studies, Calliope has been developing commercial physical and games and is an advocate of diversity, mental health and inclusivity within the New Zealand games industry, frequently volunteering and organising events within her community.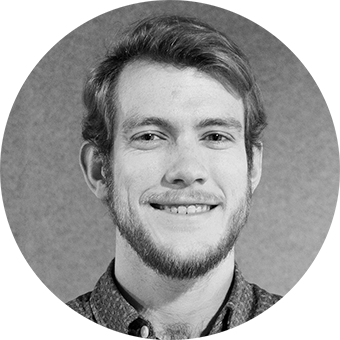 Stefan is a design masters student who has recently completed his thesis in Augmented Reality and street art. He has always been interested in interactive media and games, choosing to specialise in these fields during his undergraduate studies in media design. This lead to involvement in a number of research projects employing new technologies such as Virtual and Augmented Realities, both in games and interactive exhibitions. Highlights of this research included two public exhibitions at the National Library of New Zealand. Born in South Africa, the booming games industry in New Zealand has only strengthened his love for both playing and making games. This has resulted in several games made for coursework, game jams, and research over the past few years.
Michelle is an independent filmmaker/videographer and writer based in Wellington. She runs Fish & Swallow Productions, an online content production studio dedicated to the documenting of local arts/cultural events and the spotlighting of artists, creatives and other extraordinary individuals around Aotearoa. Michelle likes to explore her cultural heritage through her creative output, and is an avid lover of graphic novels, video games and action/martial arts media – all profound influences which help shape the content she likes to produce. A former cosplayer, long-time gamer and incorrigible nerd, she's a keen spectator at the fringes of the NZ Dev community and enjoys participating wherever she can, using her filmmaking know-how to digitally chronicle previous Play By Play events and highlight the work of the devs involved.
There's nothing Liam enjoys more than giving back to the community and helping others to do the same. Liam has years of experience volunteering in many capacities. Whether it be within Scouting, the committee of leadership courses, planting trees, or even managing volunteers for events, they've enjoyed every moment. Over this time, they've developed an understanding of how to make volunteers feel motivated, confident, and proud of what they can accomplish and hopes that every volunteer at the Play by Play festival 2019 feels the same. Beyond volunteering and community, Liam is a student at Victoria University of Wellington studying Computer Science and Computer Graphics with a minor in Media Design. Liam spends their time fulfilling a love for self-development and is constantly on the lookout for ways to challenge themselves and improve.

Our announcement for the 2019 Board of Directors for Play by Play will take place next week on this website. Stay tuned!